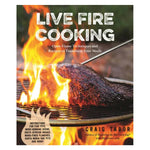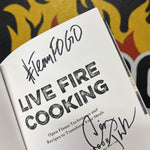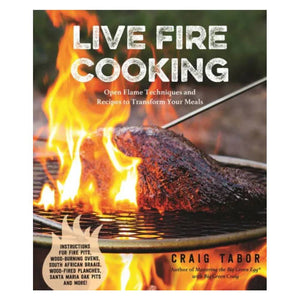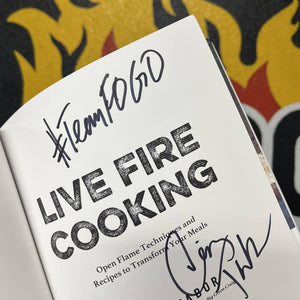 Live Fire Cooking: Open Flame Techniques and Recipes to Transform your Meals by Craig Tabor
Get this #TeamFOGO exclusive signed copy of Live Fire Cooking and master the art of handling open flames with BBQ extraordinaire Craig Tabor.
Frequently Bought Together
We have run out of stock for this item.
Free shipping on orders over $40
Cooking by fire offers unparalleled flavors and textures, plus a tremendous sense of accomplishment that you won't find with gas or electric. Use an offset smoker to keep your meat juicy and fall-apart tender, an open pit grill to enrich the sweet and savory flavors of your dinners, or a wood-fired oven to bake your favorite pizzas and desserts to perfection.

Thanks to Craig's comprehensive step-by-step guides on setup and equipment, along with these 60 mouthwatering recipes, you'll learn to cook just about anything by fire, including:

The King of Texas: Brisket
Spicy Korean Beef
Short Ribs Veal Chops with Lemon Chive Compound Butter
Cowboy Tri-Tip with Chimichurri
Filet Mignon with Blue Cheese Butter
Garlicky Leg of Lamb
Fire-Roasted Cedar Planked Salmon with Herbs
Sweet and Sticky Shrimp Skewers

So, what are you waiting for? It's time to light the fire!
FREE Shipping: We offer free shipping on all orders over $40. For orders below $40 we charge a $9.95 flat shipping fee. 
Our current shipping status:
In-stock orders will ship the same business day if placed before 2pm EST/EDT. Orders placed after 2pm will ship the next business day.
Multiple bags in the same order ship in separate boxes that may get split up during transit and deliver on different days.
Free Shipping
Receive free shipping on all orders over $40
Satisfaction Guarantee
We guarantee 100% of all FOGO purchases
Superior Service
Questions? We're here,
ready to help.
Premium Product
Our charcoal is made from the best for the best grilling.