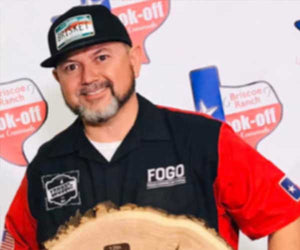 They call me... Lobo
My signature dish is hands down...
Grill of choice... My top 3 grills of choice in no particular order would have to be a Gateway drum, PK original, Weber Kettle.
Biggest Inspiration... My biggest inspiration is my family. To serve them the best possible dish and share unforgettable memories with them.
Can't live without... The one piece of equipment that I can't live without has to be my "Bbq box" which contain all my gloves, thermo pens, seasonings, and of course my Fogo charcoal. Note:If I had to pick just one and all the other things were already in place it would have to be my thermo pen.
Free Shipping
Receive free shipping on all orders over $40
Satisfaction Guarantee
We guarantee 100% of all FOGO purchases
Superior Service
Questions? We're here,
ready to help.
Premium Product
Our charcoal is made from the best for the best grilling.