How can I change my shipping address?
If you wish to change the shipping address of your order, please contact us using the form below. To get a faster response please include in the email your order number and the new address you want the package to be delivered.
Take into account that changing the shipping address once the package has been shipped, may cause delays to your package.
All orders placed before 2pm from Mon-Fri will ship that same day, if orders are placed after 2pm from Mon to Thur will ship next business day. For orders placed from Friday after 2pm and during weekends, will ship the following Monday. There may be exceptions when there's a high volume of sales or unexpected delays. You can find the status of your order by two main methods:
By going to your FOGO account and looking up the order you are interested in tracking within the orders table.
By clicking on the Order number it will display all it's information.
In the following screen you will be able to see the status of your order and if it is shipped, the tracking code will be here as well. Clicking it will take you to UPS tracking page and see a real time status of the delivery of your package.
By going to your email account and opening FOGO Charcoal's shipping confirmation email. All shipping emails have your tracking number in them, once you click it, you will be redirected to UPStracking page.
If you still have questions about your order, you can contact us using the form below for further assistance.
If I order today, when will I get my order?
All orders placed before 2pm from Mon-Fri will ship that same day, if orders are placed after 2pm from Mon to Thur will ship next business day. For orders placed from Friday after 2pm and during weekends, will ship the following Monday. There may be exceptions when there's a high volume of sales or unexpected delays.
We ship everything with UPS ground shipping, and we ship from 4 different locations (Florida, Pennsylvania, Texas and California). All shipments should be delivered from 2 -5 days, however, this may vary due to UPS service rules. To get a better estimated time of delivery, please see the maps below
My coupon code is not working! What can I do?
Our current checkout process only allows 1 coupon code at a time. Please be sure that if you are trying to apply 2, only the first applied code will work.
If you are trying to redeem a reward from FOGO Rewards with an order that has a product on sale, please split this order into two different ones to apply both offers

If you want to take advantage of a sale and use your welcome coupon, this will not work, as all our sales are not stackable. You will have to choose if you want to take advantage of the sale or the welcome coupon.
There are certain products that do not apply to offers, mainly bundles, this is due to the fact that they are already heavily discounted.
Please follow the video on how to apply the coupon to your order.
I have an issue with my order 
At FOGO we are compromised in delivering excellent customer satisfaction. So if you have any of these issues, please click on the correct link in order for us to help you better.
Quality issues: My charcoal is not as I expected it. Issues related to: size, sparks, humidity, etc.
For all other issues please send us an email to sales@fogocharcoal.com or use the form below.
What does FOGO stand for?
FOGO is 'Fire' in portuguese. We chose to name our charcoal FOGO as it represents the origins of cooking. We believe charcoal/wood fire is not only a method used to cook, but the first ingredient, as the flavor it gives food is irreplaceable.
How and where is FOGO Charcoal Manufactured?
FOGO Charcoal is mainly produced in Central America. Both our Super Premium and Premium lines are produced in this region.
Our best seller lines, the Super Premium and Premium charcoals are made from tree trimmings that are carried by coffee plantations every year as maintenance. This wood is air dried in our manufacturing plant to ensure great end results and are then converted into charcoal in our Artisanal brick ovens. We have 'maestros carboneros' (master charcoal makers) who know the exact moment wood is turned into the FOGO charcoal you love.
The Premium charcoal is classified and bagged for consistency and our Super Premium line is hand picked and bagged before passing through our Quality Assurance team to ensure we deliver the quality you deserve.
100% Natural Lump Charcoal. We do not use chemicals or any other additive to produce our high quality charcoal. Everything is hand picked and classified to ensure the highest standards to ensure you get the perfect BBQ every day.
100% Passion: We know BBQing is not only cooking, it's the warm feeling of sharing with others, be that with family or friends. So we strive to offer you the best experience, be that helping you choose the best charcoal for your cooks, or passionately discussing the best method to cook your next brisket.
100% Satisfaction Guaranteed: We have an 100% satisfaction guaranteed, if you are not happy with any of the FOGO charcoal bags contact us and we will solve that issue for you!
What is the difference between all FOGO Charcoals?
Not all charcoal is created equal. At FOGO we believe that charcoal making is like making a good artisan beer. Each type of wood has its own characteristics which are passed down to the final product.
Super Premium Lump Charcoal: Made from a blend of hardwoods this is the most balanced charcoal with a fast lighting time, a long lasting burn and a very mild smoky flavor. It is hand picked to ensure you get a bag with 80% of pieces being 4 inch or bigger. This is the best charcoal for long smokes.

Premium Lump Charcoal: Made with the same blend of hardwoods from the Super Premium Lump. The main difference is the size of the pieces. This bag has more consistent medium size pieces (2-4 inch) which makes it the perfect charcoal for everyday grilling.

Argentinean Quebracho 35lbs: The Argentinian Quebracho is made of one of the densest woods in the world, making it a very heavy charcoal that lasts a long time. However, being as dense as it is, the lighting of this charcoal takes time and patience.

Eucalyptus 17.6lbs: Made out of the Eucalyptus tree, it is a dense wood with a stronger smoky flavor.
Which charcoal is best for my grill?
Technically, all of our charcoal works with any grill. However, for best results we need to not only focus on the grill, but also on the cooking method. See the attached picture to help guide you choose the best FOGO product for your cooks.
In the grid below use the following reference to identify the correct product: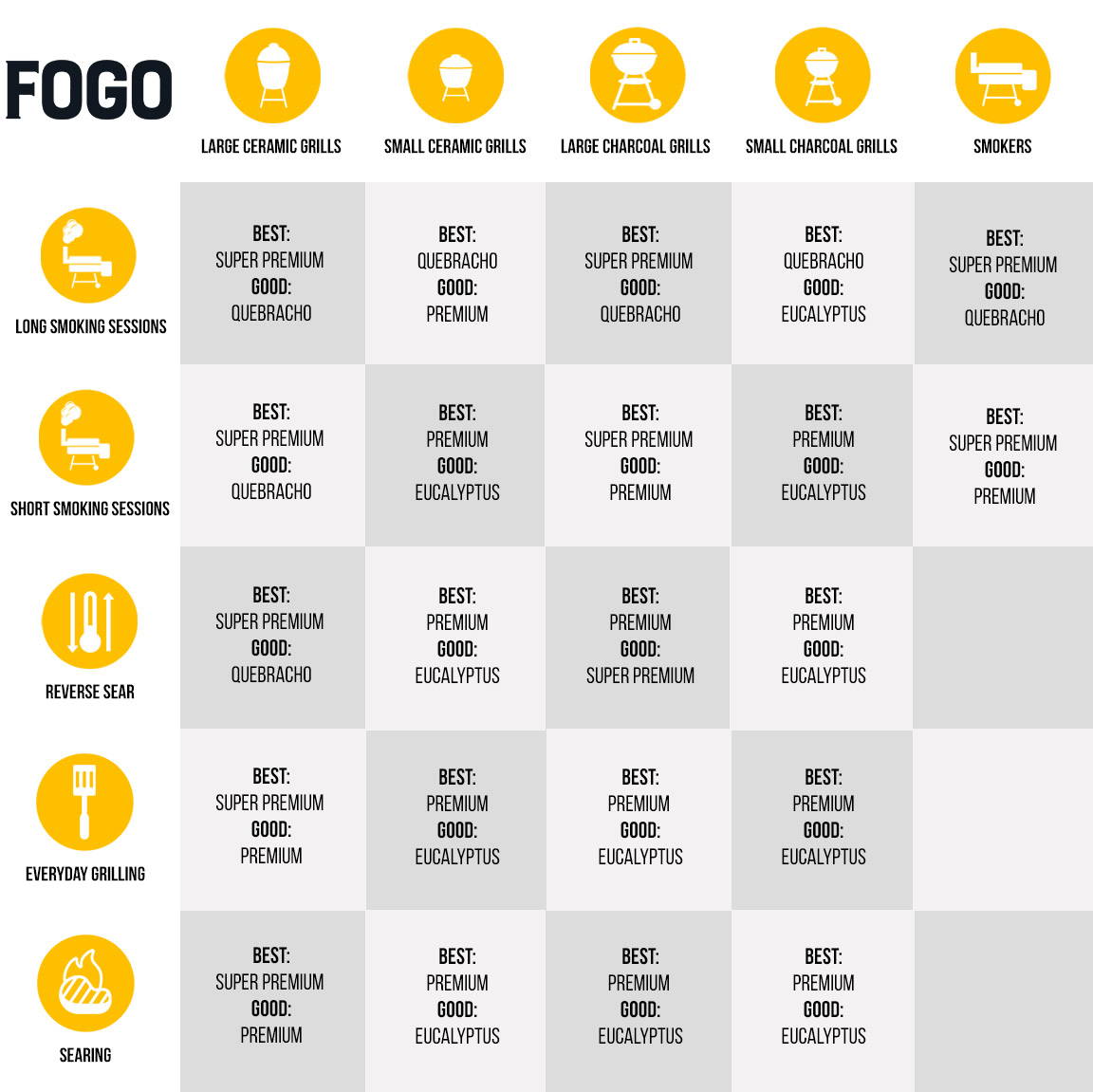 Which type of wood is FOGO charcoal made from?
Each type of wood has its own characteristics which are passed down to the final product. And you can tell this by their performance in the cook and the flavor they pass down to the food. For our FOGO products we have single origin charcoal and blended, these are:
FOGO Super Premium and Premium: Blend of Hardwoods to create a great balance in performance and flavor

FOGO Quebracho: White Quebracho Tree - it's all about the stamina, this is the longest lasting charcoal

FOGO Eucalyptus: Eucalyptus tree - Dense charcoal with a strong kick.
We have more than 400 dealers throughout the US, please visit our dealer locator to find the closest to you. If not, you can always buy online, remember we have our 100% satisfaction guaranteed policy!
What is the FOGO Rewards program?
You are at the core of everything we do at FOGO and we want to show you how much you mean to us. We designed our FOGO Rewards program to thank you for your loyalty and passion! Earn points by buying our products, sharing on social media, and by referring us to friends. The more you grill and share, the more points you can earn! And to top it off, we give you 500 points every year on your Birthday as a gift!
You can create an account 2 ways:
By creating a FOGO account when checking out. Whenever you buy at FogoCharcoal.com you have the option to create an account with us. If you choose to create one, you will automatically apply to our FOGO Rewards program and start earning points.

By clicking here

and registering for a new FOGO account.
There are different ways to earn FOGO Rewards. The biggest methods are:
Refer to a friend and when they buy at fogocharcoal.com for the first time they will get a 10% discount and you'll get 1000 FOGO points.

Every time you buy something at fogocharcoal.com you earn points. For every $1 spent, you get 10 FOGO points.
You can earn more points by:
When you join our program you will get 200 pts as a welcome gift.

Follow us on Social media to earn more points. Follow us on Twitter, Facebook and Instagram to get 100 pts per social media.

On your birthday you will get 500 pts! Please make sure to register your birth date 30 days in advance to be able to qualify for the points.
How do I redeem my points?
To redeem follow the next steps:
Log into your account and go to your account view

Click on the Spend link on the top right corner

Once pop up shows, the products you have enough points to redeem will show a "View" button next to it, all others will show the progress you have towards gaining your reward. Choose the product you wish to redeem and click on the "View" button

You will be redirected to the redeem window. Click on redeem and the coupon code will appear.

Copy the coupon code and click on the "Add product to cart"

If you are ready to checkout, click on the cart icon and then checkout, once redirected you will see that the coupon code is already applied to get your free reward.

Continue with the regular checkout process.
Use the video below to see how to redeem your rewards.
Note: Only one coupon code can be redeemed at once. If you would like to redeem more than one product, you will need to do it one at a time.
I created my FOGO Rewards account after my first purchase, did I lose my points?
Of course not! If you created your account up to 30 days after your first purchase contact us in the form below and we will add your points to your newly created account
Couldn't find an answer to your question?
Email us at sales@fogocharcoal.com
Call us at +1 305-835-7570
Hours of attention: Monday to Friday from 8am to 5pm EST.
Visit us at 635a W 18th Street, Hialeah, FL, 33010