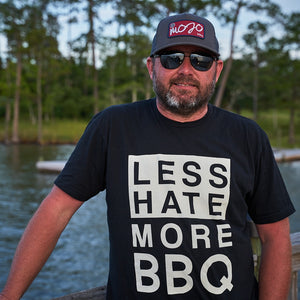 They call me... Tennessee MOJO BBQ
My signature dish is hands down...
Grill of choice... Outlaw Stick Burner and Weber Kettle
Biggest Inspiration... Mr Danny Montgomery. A great friend and inspiration. He let me sit in on a comp in 2013. Even though I was not much help, he let me walk the stage with him and I have been hooked ever since. He has not only taught me how to be a BBQ champion, he has also taught me how to be a champion at life.
Can't live without... When it comes to grilling, you got to have a good charcoal. FOGO and a good instant read thermometer is the key to any good dish.
Free Shipping
Receive free shipping on all orders over $40
Satisfaction Guarantee
We guarantee 100% of all FOGO purchases
Superior Service
Questions? We're here,
ready to help.
Premium Product
Our charcoal is made from the best for the best grilling.