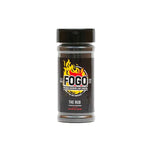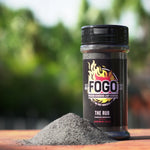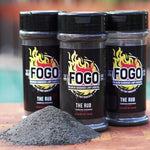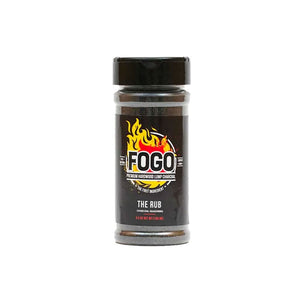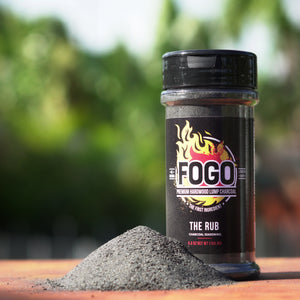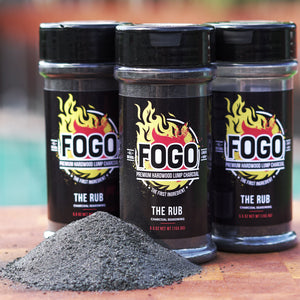 The FOGO Rub
The Essence of Charcoal Grilling
Bring out the best in chicken, beef, pork and steaks. The FOGO Charcoal Rub enhances both the flavor and texture of the protein or vegetable you are cooking and takes it to the next level. On top of that the bold black color will be a talking point all dinner long as you try to explain to your guests that: no, the food is not burnt or overcooked, it's just The Rub!
Frequently Bought Together
We have run out of stock for this item.
Free shipping on orders over $40
Rewards member? Login to redeem
Ingredients: Salt, Spices, Onion, Garlic, Chili Powder, Sugar, Activated Charcoal powder. 
5.5oz shaker. The Rub is Gluten and MSG free. 
FREE Shipping: We offer free shipping on all orders over $40. For orders below $40 we charge a $9.95 flat shipping fee. 
Our current shipping status:
In-stock orders will ship the same business day if placed before 2pm EST/EDT. Orders placed after 2pm will ship the next business day.
Multiple bags in the same order ship in separate boxes that may get split up during transit and deliver on different days.
Best charcoal
Easily the best charcoal I've used. The charcoal is extremely long lasting and super hot.
Great as usual
I have been using FOGO for several years and service is better than ever! Keep up the good work.
The Fogo Rub
Used the rub for the first time on steak and the flavor was perfect.
Fogo's "TheRub"
I had the chance to use the Fogo Rub on a prime cut porterhouse steak using my Weber bbq last week. I put the rub on generously the night before and placed the steak in the fridge overnight. The result was really fantastic, the rub enhanced the wonderful bbq flavors. I'll definitely be using that rub again in the future, maybe a chicken is next.
Steaks and burgers will never be the same
This is the ONLY rub you need!
Free Shipping
Receive free shipping on all orders over $40
Satisfaction Guarantee
We guarantee 100% of all FOGO purchases
Superior Service
Questions? We're here,
ready to help.
Premium Product
Our charcoal is made from the best for the best grilling.