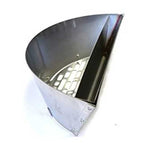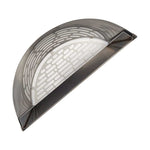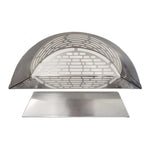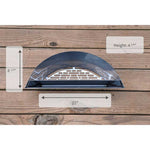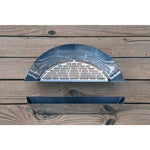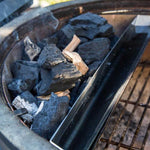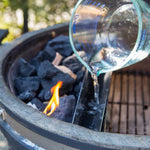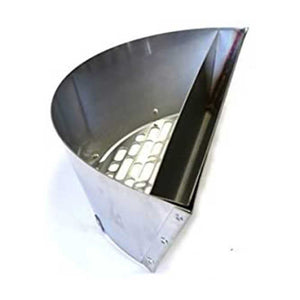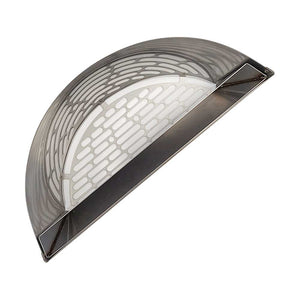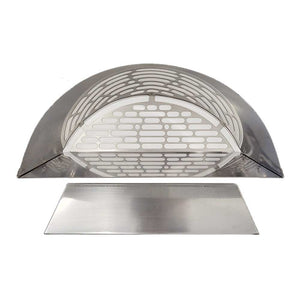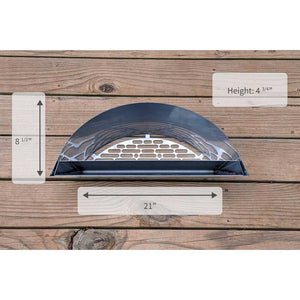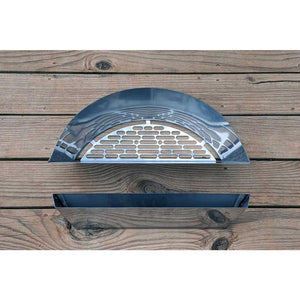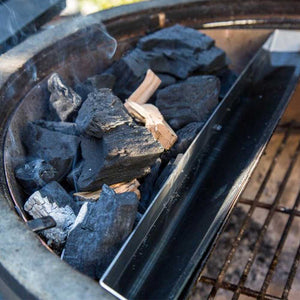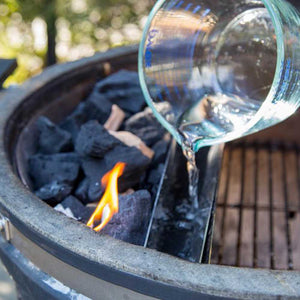 Slow n Sear Deluxe - For the 22" Weber
Charcoal basket holds one chimney-full of FOGO Charcoal that provides 8+ hours of uninterrupted low 'n slow (225° F) cooking.
Frequently Bought Together
Free shipping on orders over $40
 Features Include:
- The perfect fit for your 22" kettle

- Charcoal basket holds one chimney-full of FOGO Charcoal that provides 8+ hours of uninterrupted low 'n slow (225° F) cooking.

- Or load up the basket with fully lit briquettes for high-heat cooking (400°+ F) perfect for chicken or pizza!

- The removable water reservoir holds just over one quart of water for 5+ hours of steam generation (at 225° F) and creates an effective thermal barrier between the coals and the indirect cooking zone. 

- Ventilated bottom plate is great for lump charcoal users and makes cleaning up after the cook a breeze

- Stainless steel rivet-based manufacturing technique for the basket – simple, strong, and durable. Significantly reduces warping under high-heat conditions.

- Each Slow 'N Sear Deluxe is made out of 7+ pounds of high-quality 16-gauge 430 stainless steel

Product Dimensions:
- Length: 21"
- Depth: 8½"
- Height: 4¾"
FREE Shipping: We offer free shipping on all orders over $40. For orders below $40 we charge a $9.95 flat shipping fee. 
Our current shipping status:
In-stock orders will ship the same business day if placed before 2pm EST/EDT. Orders placed after 2pm will ship the next business day.
Multiple bags in the same order ship in separate boxes that may get split up during transit and deliver on different days.
Love the Slow and Sear
I'm new to smoking on the kettle grill. I bought a cheap one but have a new Slow and Sear kettle on order (can't wait). The Slow and Sear tray is a game changer in the journey. Use it often and love the results
Game changer
The slow and sear is a game changer for the Weber kettle. I use this in combination with the cast iron drip pan and I couldn't be happier. I have smoked pork shoulders, briskets and beef ribs to perfection with the help of this insert. Could you simply shove the coals to one side? Sure. Could you use a a cheap aluminum pan in place of the cast iron? Yes. But it's the ease of set up and the consistency of the results you get with the use of both those products together that makes for a pleasant and repeatable cooking experience. Slow and sear is a YES for me.
The water pan needs reinforcing
Great product, I highly recommend it. I grill a couple of times per week. I often use the water pan. It seems the water pan walls aren't holding up enough against the heat. The wall that's the closest to the fire is already bent inwards due to the heat and water presence in the pan. A suggestion: maybe install a reinforcer within the wall, or a bar inside the pan to hold it from warping? Thank you!
Perfect for both indirect and searing
The slow-n-sear works great for fire management. I have both a dedicated smoker and a 22" Weber, and the slow and see who helps the Weber with short and medium smokes without having to fire up the dedicated smoker. The metal is high-quality and has lasted well through 100 or so cooks, and no damage, rust, breakage has appeared. Highly recommend
Best accessory hands down!!!
This is the best accessory for your Webber grill HANDS DOWN! Combine this with a cast iron grate and it's all you'll need. My food cooks a lot more evenly on the slow cook side especially with that water tray. And gets super hot and the sear side now that I can fit a lot more charcoal on that side. Amazing product. Definitely recommend.
Free Shipping
Receive free shipping on all orders over $40
Satisfaction Guarantee
We guarantee 100% of all FOGO purchases
Superior Service
Questions? We're here,
ready to help.
Premium Product
Our charcoal is made from the best for the best grilling.