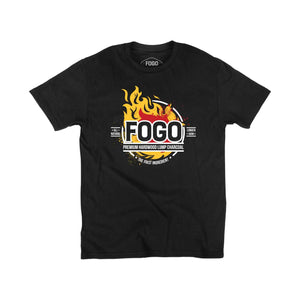 FOGO Color Logo Shirt
We have run out of stock for this item.
Free shipping on orders over $40
Rewards member? Login to redeem
4.3 oz
Next Level Apparel 6210

Premium soft crew neck, this one of the softest t-shirts you'll ever wear.

60% Ring-Spun cotton and 40% Poly
FREE Shipping: We offer free shipping on all orders over $40. For orders below $40 we charge a $9.95 flat shipping fee. 
Our current shipping status:
In-stock orders will ship the same business day if placed before 2pm EST/EDT. Orders placed after 2pm will ship the next business day.
Multiple bags in the same order ship in separate boxes that may get split up during transit and deliver on different days.
never received
great looking shirt but never received
Wrong Order But Exceptable
My recent order was for a size "XXL" but I received a "XXXL" instead. I will keep it because I like the shirt even though it is oversized. Thnx FOGO. LRB
Real Deal
This shirt is the real deal. The sizing is right on. The cotton is thick and heavy, not a cheap shirt. I can not wait for cooler weather. I live in Tampa. A black heavy cotton shirt is very hot. But, this is a great deal for less than $20
Free Shipping
Receive free shipping on all orders over $40
Satisfaction Guarantee
We guarantee 100% of all FOGO purchases
Superior Service
Questions? We're here,
ready to help.
Premium Product
Our charcoal is made from the best for the best grilling.