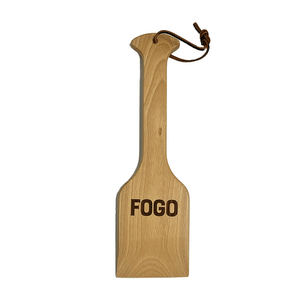 Wooden Grill Scraper
All-natural BBQ cleaning tool and wood grill scraper. It custom grooves to uniquely fit your barbecue grill without having to worry about damaging your grill grates or metal bristles getting in your food. It is made of solid premium hardwood and is the perfect grilling accessory.

Frequently Bought Together
We have run out of stock for this item.
Free shipping on orders over $40
The Woody Nub is a compact model. It is built for smaller grills and can be used with two hands.
 Grill Scraper With QuickClean Tech - Molds to your grill grates shape and deeply cleans them.
Why Wooden Grill Scrapers? - Because your food stays bristle free and your grates 100% clean.
Top Quality Bbq Tool - 'A' grade pine wood. Best type of wood for no-scratch grill cleaning.
For All Grates - The wooden grill scraper suits porcelain, ceramic, stainless steel & cast iron.
Size: 16" x 4.75" x .75"
FREE Shipping: We offer free shipping on all orders over $40. For orders below $40 we charge a $9.95 flat shipping fee. 
Our current shipping status:
In-stock orders will ship the same business day if placed before 2pm EST/EDT. Orders placed after 2pm will ship the next business day.
Multiple bags in the same order ship in separate boxes that may get split up during transit and deliver on different days.
Cool product
Very nicely made and fun conversation piece!
Free Shipping
Receive free shipping on all orders over $40
Satisfaction Guarantee
We guarantee 100% of all FOGO purchases
Superior Service
Questions? We're here,
ready to help.
Premium Product
Our charcoal is made from the best for the best grilling.