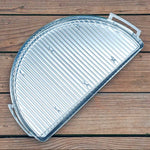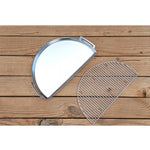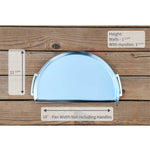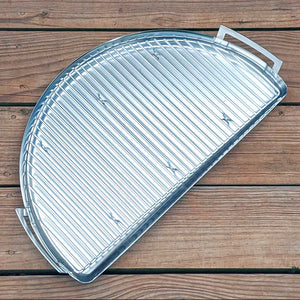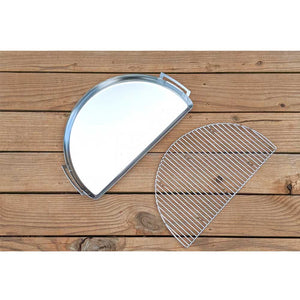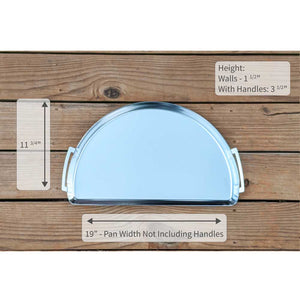 Drip 'N Griddle Pan - Deluxe
Frequently Bought Together
Free shipping on orders over $40
3-in-1 Grill Accessory!

The Drip 'N Griddle Pan – Deluxe lives up to its name….and more!
Drip Pan – Made from nearly 4 pounds of sturdy and durable 304 stainless steel, the Drip 'N Griddle Pan is contoured to fit perfectly next to the Slow 'N Sear on the charcoal grate and helps with airflow.
The air from the bottom vents is forced to exit through the bottom of the Slow 'N Sear, which makes the fuel hotter. Also say goodbye to messy foil – even the biggest messes are contained by the Pan's raised edges and the easy-access side handles make cleaning up after a cook a breeze! 
Griddle – Transfer the Pan to the cooking grate and place it above the coals for a flat-top grilling experience on your kettle. Bacon and eggs, anyone? Note: Stainless steel can warp if it's placed over extreme heat. You should only use a small amount of charcoal when using it as a griddle to prevent warping. Preheat the pan on the indirect side of the grill before placing it directly over the coals. 
Warming –
 Use the cooking grate to allow maintenance of much lower temps on the indirect side, while still having enough heat to sear when needed. 
Compatible with 22″/26″ kettles and the Weber Summit® Charcoal Grill.
Pan and roasting rack are dishwasher safe.
Product Dimensions:

Width (not including handles): 19 inches
Depth: 11¾ inches
Wall height: 1½ inches
Wall height (with handles): 3½ inches
FREE Shipping: We offer free shipping on all orders over $40. For orders below $40 we charge a $9.95 flat shipping fee. 
Our current shipping status:
In-stock orders will ship the same business day if placed before 2pm EST/EDT. Orders placed after 2pm will ship the next business day.
Multiple bags in the same order ship in separate boxes that may get split up during transit and deliver on different days.
Drip 'N Griddle Pan-Dry Meats
I have used the Drip N Griddle Pan twice now and each time my meat came out drier than they would if I used my traditional method. The only good thing about it is it cleans up nicely. I would not recommend this to anyone, you can get better results for moisture retention using traditional methods.
Griddle pan
I wish I could find one for my Large BGE , a family of 2 the Large is perfect I cook a 2 bone rib roast and that would be the best thing in the world.
So far, so great!
This pan/grate combo is phenomenal for smoking rib roasts on the XL BGE and capturing the juices. With a sheet of foil lining this pan, it is also ideal for not making a mess while glazing a double-smoked ham. It's the best Christmas gift that I gave myself by far!
Fogo Charcoal.
Received my bags of charcoal and the bags were completely ripped open and spilled out of the box. Other than that everything has been great
Free Shipping
Receive free shipping on all orders over $40
Satisfaction Guarantee
We guarantee 100% of all FOGO purchases
Superior Service
Questions? We're here,
ready to help.
Premium Product
Our charcoal is made from the best for the best grilling.