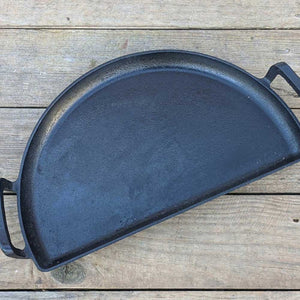 Griddle Pan – Cast Iron
Cast Iron Drip Pan, Cast Iron Griddle and Cast iron heat retention. The best 3 in 1 accessory for your grill!
Frequently Bought Together
Free shipping on orders over $40
3-in-1 Grill Accessory - in Cast Iron!
Cast Iron Drip Pan
Made from cast iron, this Griddle Pan is contoured to fit perfectly next to the Slow 'N Sear® on the charcoal grate and helps with airflow. The air from the bottom vents is forced to exit through the bottom of the Slow 'N Sear, which makes the fuel hotter. Also say goodbye to messy foil – even the biggest messes are contained by the Pan's raised edges and the easy-access side handles make cleaning up after a cook a breeze! (while using heat tolerant gloves) As a bonus, using this pan as a drip pan will help season it - preventing it from rusting!
Cast Iron Griddle
This is the highlight of the Griddle Pan - Cast Iron. Heat this pan up until it is white-hot, then drop some steaks, burgers, or anything you want to sear! No more bringing a cast iron pan outside; this fits right on top of the grate directly over the Slow 'N Sear. Perfect searing is now even easier!
Cast Iron Heat Retention
Using cast iron for warming is generally acceptable but just know that cast iron will retain heat for much longer than stainless steel. This can have a positive outcome, but we do not recommend using this particular pan to warm your food as it is possible to over cook it.
How to Season a Cast Iron Surface
This is a cast iron pan, so you will need to season it to prevent rust as well as to get it to a non-stick surface.  The more you use it and build up the seasoning, the smoother the surface will become. After use, clean and store it in a dry location. 
Compatible with 22″/26″ grills

Product Dimensions
Width (not including handles): 18⅛ inches
Width (with handles): 20½ inches
Depth: 11 inches
Wall height: 1¼ inches
Wall height (with handles): 3 inches
Weight: 10 lbs
Thickness: ⅛ inch (0.125 inches)
FREE Shipping: We offer free shipping on all orders over $40. For orders below $40 we charge a $9.95 flat shipping fee. 
Our current shipping status:
In-stock orders will ship the same business day if placed before 2pm EST/EDT. Orders placed after 2pm will ship the next business day.
Multiple bags in the same order ship in separate boxes that may get split up during transit and deliver on different days.
Slightly small for xl BGE
Nice product, but slightly small for my xl BGE. Needed a little sanding on the handles for a comfortable grip.
Solid
The griddle pan came quickly and was priced right. Solid cast iron and seems like it is quality. Thanks fogo for the hookup.
Great must-have product!
I am thoroughly pleased with the quality and usefulness of my griddle. Easy to season and has been used many times with a variety of foods. Thanks FOGO for offering this product. Hope to see more product offerings in the future.
Does Not Fit the Large Big Green Egg
It's a solid cast iron pan but it doesn't fit the lg BGE. Unfortunately, the lid won't close. The description should be updated to reflect that. So I had to return mine.
Acts as a perfect baffle for the round grill, catches drippings and can be used to sear
Free Shipping
Receive free shipping on all orders over $40
Satisfaction Guarantee
We guarantee 100% of all FOGO purchases
Superior Service
Questions? We're here,
ready to help.
Premium Product
Our charcoal is made from the best for the best grilling.