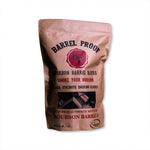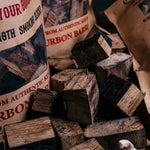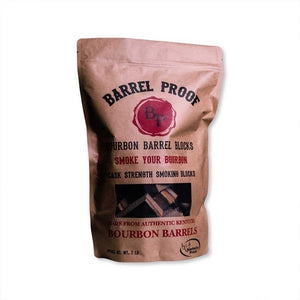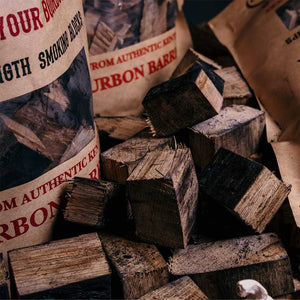 Barrel Proof – Bourbon Barrel Wood Chunks
A bourbon barrel exists to impart its rich flavor and color to the bourbon aging inside its white oak staves. For the bourbon aging process, the barrel can only be used once.
Frequently Bought Together
We have run out of stock for this item.
Free shipping on orders over $40
Barrel Proof Smoking Blocks are packaged from authentic Kentucky bourbon barrels. When used as grilling chips, they release a sweet smoky flavor creating a unique richness that can only be achieved by using authentic white oak bourbon barrels.

The aroma emanating from the bag of Bourbon Blocks feels like someone just handed you a neat pour of your favorite bourbon.
Barrel Proof has been granted the distinctive designation of "Kentucky Proud".
Sourced directly from Kentucky white oak bourbon barrels for authentic flavor
Resealable, lined bag keeps your wood blocks fresh and aromatic
Environmentally friendly company uses excess barrels that would otherwise go to waste.
Net weight 2lbs per bag
FREE Shipping: We offer free shipping on all orders over $40. For orders below $40 we charge a $9.95 flat shipping fee. 
Our current shipping status:
In-stock orders will ship the same business day if placed before 2pm EST/EDT. Orders placed after 2pm will ship the next business day.
Multiple bags in the same order ship in separate boxes that may get split up during transit and deliver on different days.
Bourbon barrel wood chunks
These wood chunks are awesome. Great smoke and great flavor.
Pricey but Nice
There are bigger quantity packages of less expensive Barrell chunks, but these definitely have a wonderful smell and flavor
I love this stuff!
I am now using these smoking chunks for everything! It imparts a great flavor! I went through my first bag in no time. I bought 2 more!
I have had the bourbon barrel chips before like them a lot
Free Shipping
Receive free shipping on all orders over $40
Satisfaction Guarantee
We guarantee 100% of all FOGO purchases
Superior Service
Questions? We're here,
ready to help.
Premium Product
Our charcoal is made from the best for the best grilling.