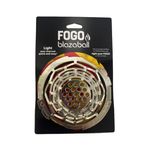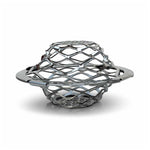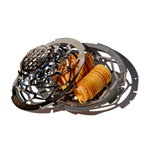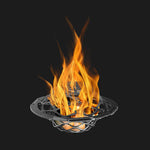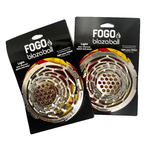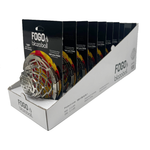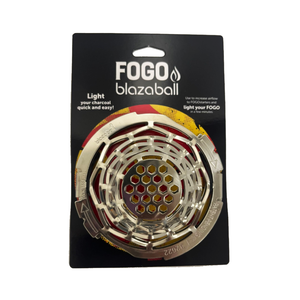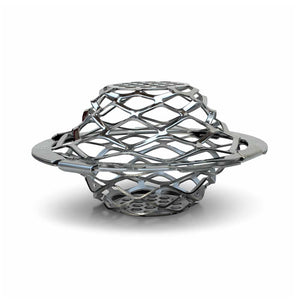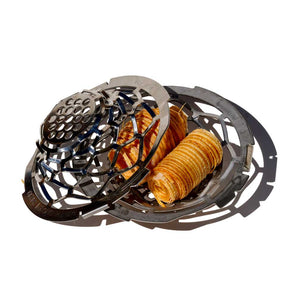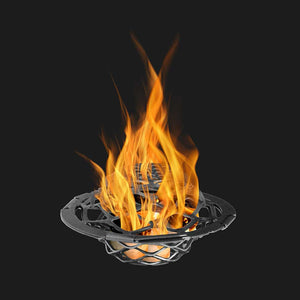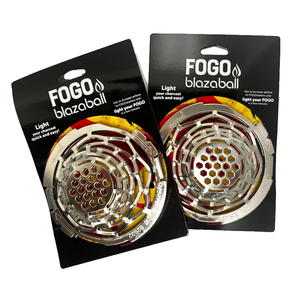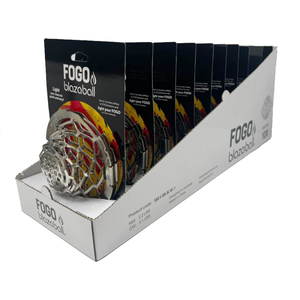 Blazaball - The best accessory to use with FOGOstarters
Lighting your charcoal has never been so easy.
Never worry about your fire starter going out again with a Blazaball! It's unique design creates a protective barrier for the fire starters that facilitates airflow and prevents your FOGOstarters from turning off.
Frequently Bought Together
We have run out of stock for this item.
Free shipping on orders over $40
Rewards member? Login to redeem
 Light your grill or fire pit in 3 EASY STEPS:
1. Place a FOGOstarter inside the Blazaball. Line up the two halves with the v-shaped markings.
2. Rotate the two sides clockwise until they lock into position.
3. Light the fire starters and place your favorite FOGO lump charcoal on top. 
Lifespan: Like all things with direct contact with fire, the Blazaball has a limited lifespan. In our testing we have successfully gotten 50 cooks out of it. However, this can vary from user to user, depending on the lengths and temperature of your cooks.
FREE Shipping: We offer free shipping on all orders over $40. For orders below $40 we charge a $9.95 flat shipping fee. 
Our current shipping status:
In-stock orders will ship the same business day if placed before 2pm EST/EDT. Orders placed after 2pm will ship the next business day.
Multiple bags in the same order ship in separate boxes that may get split up during transit and deliver on different days.
Awesome product!
Good solid construction. Great addition to my Green Egg smoking adventures.
Wonderful tool for a firestarter. No troubles easy to light
Fantastic
I was very surprised how much faster the Blazeball helps get the grill up to temp as opposed to the starter blocks. Easily cut the time in half.
Blazaball works like a charm!
Blazaball fires right up and gets our Kamado going quickly and ready to cook with no mess and no taste added to the mix.
Love it!
I was a bit skeptical…BUT - this makes getting the BGE going so much easier. I'm able to get an even burning bed of lump by being able to drop in the Blazaball and dump Fogo on top. Highly recommend!!
Free Shipping
Receive free shipping on all orders over $40
Satisfaction Guarantee
We guarantee 100% of all FOGO purchases
Superior Service
Questions? We're here,
ready to help.
Premium Product
Our charcoal is made from the best for the best grilling.