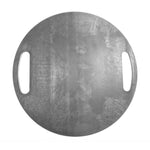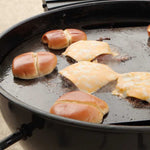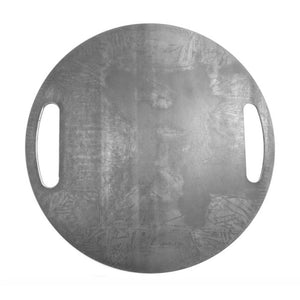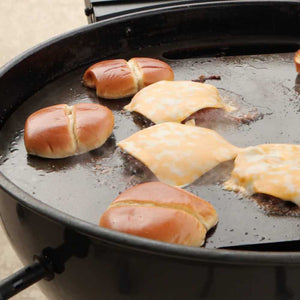 Carbon Steel Plancha
The perfect big green egg or kamado joe accessory!
The carbon steel Plancha (griddle) provides a smooth, flat top cooking surface with excellent thermal conductivity, which is perfect for smash burgers, Philly cheesesteaks, Hibachi style meals, breakfast and much more. Once seasoned*, the natural non-stick cooking surface makes this Plancha (griddle) easy to cook with and also very easy to clean and maintain.
*Seasoning is recommended before use.
Frequently Bought Together
Free shipping on orders over $40
Features Include:
- 23 lbs. of heavy duty, carbon steel with high thermal mass and heat retention
- ¼ inch thickness provides strength and durability.
- The specially designed profile allows the Plancha to be rotated 360° so you can position your food over your preferred heat zones without actually moving the food.
- The combination of the two cut-outs enable the heavy weight of the Plancha to be handled in and out of the grill while wearing 
gloves
.
 Do not handle when hot. 
- Large handles provide excellent airflow and allow the ideal placement of a drip tray underneath. The flat edge of the handles makes it convenient for scraping a spatula while cooking.
- Sits close to the coals to give excellent fuel efficiency.
Works with:

- 18 or 22 inch round Kettle style grills (including Weber)
- 18 or 22 inch round Kamado style grills including: Kamado Joe Classic, Big Joe, Big Green Egg Large and Big Green Egg X-Large

The 3 cooking grate supports in your grill need to be of sufficient strength to hold 23 lbs in weight plus foods/liquids. It also works well on top of your existing cooking grate.
Note: When the insert arrives, the cooktop will be silver (unseasoned). It will develop the dark color shown in the images once it's been used several times.
FREE Shipping: We offer free shipping on all orders over $40. For orders below $40 we charge a $9.95 flat shipping fee. 
Our current shipping status:
In-stock orders will ship the same business day if placed before 2pm EST/EDT. Orders placed after 2pm will ship the next business day.
Multiple bags in the same order ship in separate boxes that may get split up during transit and deliver on different days.
Love this plancha
My smash burgers are coming out so much easier than they were on my cast iron steel! Much easier clean up too. Was very easy to season. Feels like it will last a lifetime or two if taken decent care of!
Fortunate Gateway…
Quality- amazingly smooth carbon steel, no pores smooth as glass!
What follows is ease of seasoning. Just heat up do your thing with oil wait for smoke to stop and voila!
One problem is once you start using it you'll want dedicated griddle in about…3…2…1…. Boom next delivery truck passing your street will carry one for you. Mine is coming. Great Plancha though I wish my 22" Kamado was twice the size and it would be all good otherwise too small for what griddle can do. Great gateway to start griddling and feel the griddle craze. 5 stars from me!
Awesome
Love this thing. Smash burgers are awesome on it. Bacon too. MUST SEASON IT FIRST THOUGH
Nice Plancha
High quality, beefy and sturdy. I'm sure it will last a long time. Mixes it up a bit on my egg.
Excellent Plancha (Griddle)
I was thrilled to find a heavy carbon steel griddle for my large big green egg. I use carbon steel and cast iron in the kitchen, so I'm used to completing the initial seasoning. This was extremely easy to get a wonderful seasoning on (I used my oven for 4 rounds of seasoning). It turned out very well. I have made smash burgers several times with wonderful results. I have also done fried eggs. My wife and I are using it this evening for another round of smash burgers! I would definitely recommend this if you are interested a high quality plancha for your grill!
Free Shipping
Receive free shipping on all orders over $40
Satisfaction Guarantee
We guarantee 100% of all FOGO purchases
Superior Service
Questions? We're here,
ready to help.
Premium Product
Our charcoal is made from the best for the best grilling.