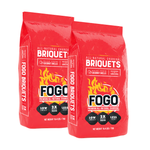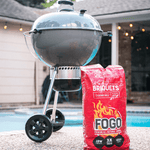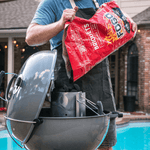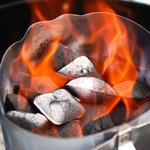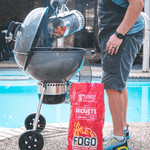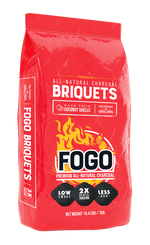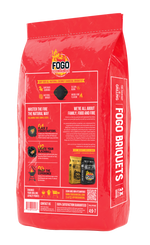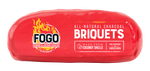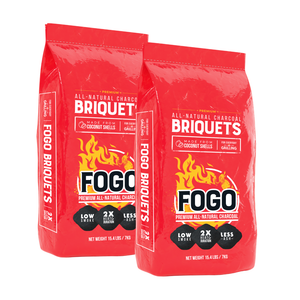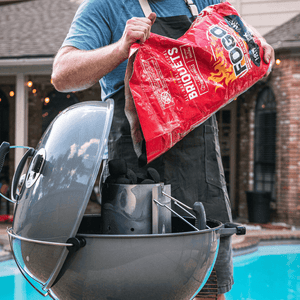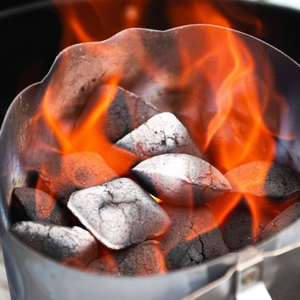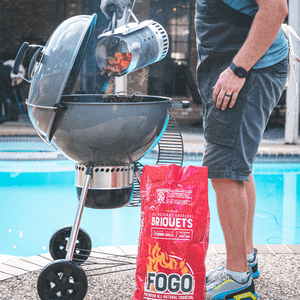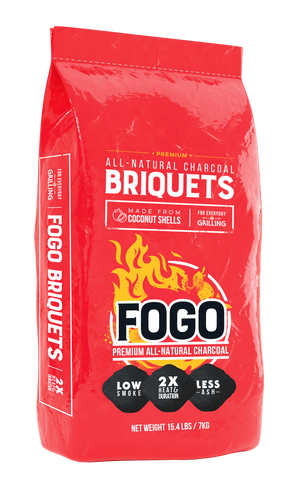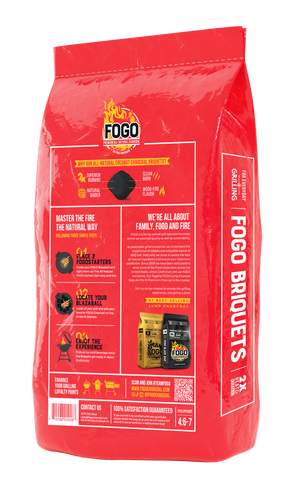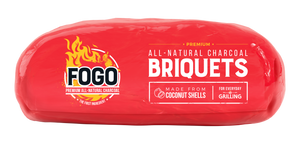 FOGO Briquets (2 bags of 15.4lbs)
The new FOGO Briquets are an all-natural grilling innovation, expertly crafted from 100% natural ingredients including coconut shells and plant-derived binders for sustainable and guilt-free cooking. Offering superior burning performance, these coconut charcoal briquets provide a hotter, longer burn, less ash, and the signature FOGO flavor — a tantalizing blend of real wood fire taste with a gentle, aromatic finish that makes every grilling experience a delight.
Frequently Bought Together
We have run out of stock for this item.
Free shipping on orders over $40
All-Natural
Our Premium Briquets are made of 100% natural ingredients: Coconut shells (a byproduct of coconut harvesting) and held together by starch, vegetable oil & natural sugars.
Superior Burning Performance
Charcoal coconut briquets have a high energy density, which means they burn for hotter and longer time than regular briquets, apart from producing less ash!
FOGO Flavor
Like all FOGO products, the FOGO Briquet imparts a real wood-fire flavor, with a mild and pleasant aroma which makes the grilling experience even more enjoyable.
FREE Shipping: We offer free shipping on all orders over $40. For orders below $40 we charge a $9.95 flat shipping fee. 
Our current shipping status:
In-stock orders will ship the same business day if placed before 2pm EST/EDT. Orders placed after 2pm will ship the next business day.
Multiple bags in the same order ship in separate boxes that may get split up during transit and deliver on different days.
Trying something new
After grilling with all the different lump charcoal Fogo has to offer, I was delighted to see they came out with briquettes. These are special, coconut shell and burn very hot and cleanly. Briquettes always have more ash than lump, but it never was a significant issue. Bone in skin on chicken thighs indirectly cooked in my PK 300AF had a delicious smoky flavor with crisp skin. Temp held at 330° throughout the cook. Highly recommended and I'm buying again.
Premium Briquettes
I have used a high end coco charcoal in the past and this is right with it. Long burn, low ash. Don't hesitate to buy this one!
FOGO Briquettes
Much better than kingsford charcoal, I use these when using my little Weber grill while we are traveling.
Great stuff
Very satisfied with every bag I have ever bought !
Free Shipping
Receive free shipping on all orders over $40
Satisfaction Guarantee
We guarantee 100% of all FOGO purchases
Superior Service
Questions? We're here,
ready to help.
Premium Product
Our charcoal is made from the best for the best grilling.