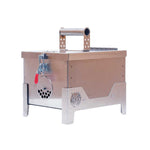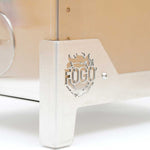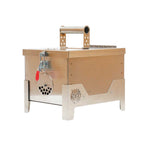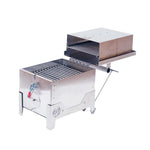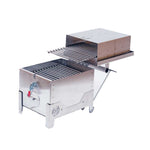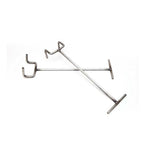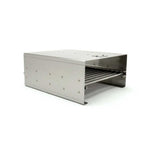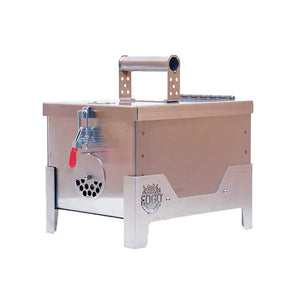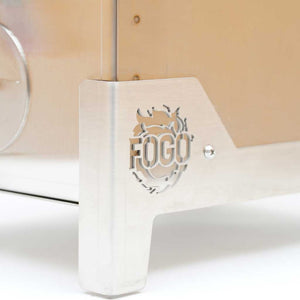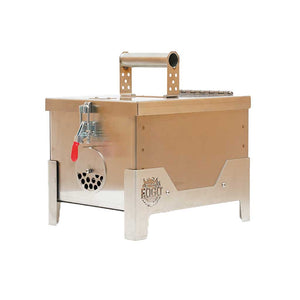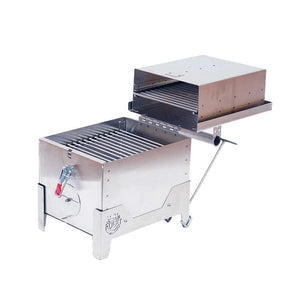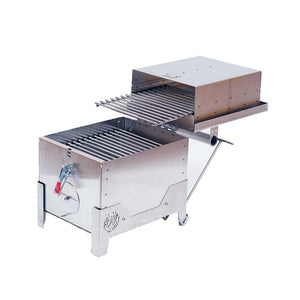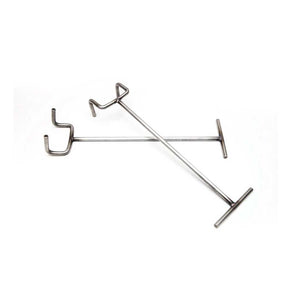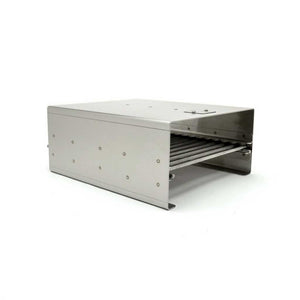 C4 FOGO Grill - Limited Edition
Frequently Bought Together
Free shipping on orders over $40
The FOGO C4 Grill by MGrills is the best portable grill in the market.
The C4's body includes dual intake dampers on both the front and back side of the grill. This allows more control of your airflow and even grate temperatures. The airflow has been greatly improved by completely running underneath the charcoal grate and easy to control with its dual stainless damper covers.

Made from durable 304 Stainless Steel
Only  13" x 10" x 13.25" in size and weights 19lbs. Makes it the perfect portable grill for camping, hunting trips, SCA competitions, you name it!
Has a large 11" x 9.5" cooking area
Included with the grill:
Over under accessory - Instantly transform your charcoal grill into a slow cooking oven with this all stainless steel portable hood. It's perfect to use on our C4 Stainless Steel Portable Grill. 

For Steak Cooking, it's perfect for gradually getting your steak up to perfect internal temperature after searing!

This all 304 stainless steel device features a monstrous 1/4" thick 304 stainless steel removable grate. 


Grate removing tools - Quick, easy and clean removal of grates. These tools also work great for stoking your wood burning fires, moving hot charcoal around, and pulling out firebox and charcoal baskets. On the C4 Stainless Steel Portable Grill, they make a great lid stand that turns into a nice work surface. They even fit nicely inside the C4 Portable Grill for storage! 

Our grate tools are made from solid 1/4" 304 stainless steel and should last you forever! 
Manufacturer warranty: Limited lifetime warranty. Click here for details

FREE Shipping: We offer free shipping on all orders over $40. For orders below $40 we charge a $9.95 flat shipping fee. 
Our current shipping status:
In-stock orders will ship the same business day if placed before 2pm EST/EDT. Orders placed after 2pm will ship the next business day.
Multiple bags in the same order ship in separate boxes that may get split up during transit and deliver on different days.
I very happy with my C4 and used camping 12 times camping this summer
I do a lot of camping and a lot of grilling on a green egg at home. Wanting the same flavor camping that I got from my green egg, I started looking for something what would work camping. I looked at small green egg, but decided it likely would get broken. Then I found the C4 and bought the SCA version Thanksgiving 2021. I used it 12 times this summer camping and must say I very happy with the C4 and would get it again if I lose it, I used a few times at home when it was just my wife and I when the Green Egg was too big. This grill is built like a tank and will last more than a life time. Get yours.
FOGO C4
This thing is solid very well made and the craftsmanship is top notch. Very pleased with this portable grill built like a tank
Free Shipping
Receive free shipping on all orders over $40
Satisfaction Guarantee
We guarantee 100% of all FOGO purchases
Superior Service
Questions? We're here,
ready to help.
Premium Product
Our charcoal is made from the best for the best grilling.