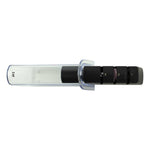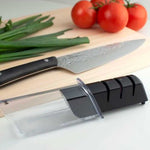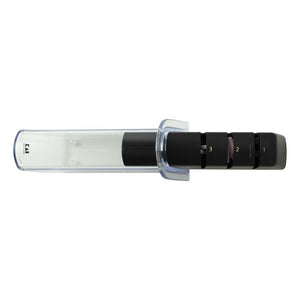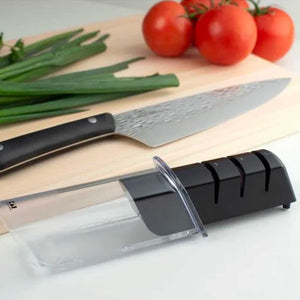 Kai Diamond And Ceramic Retractable Sharpener
The Kai Diamond and Ceramic Retractable Sharpener sharpens knives easily with a simple 3-step process.
Frequently Bought Together
Free shipping on orders over $40
The left- or right-handed sharpener is set to the 16-degree angle required to sharpen any Kai straight-edged, double-bevel blade. Just pull the knife through the first slot for rough sharpening, the second slot for refinement, and the third slot for finishing. Your knife's razor sharpness is restored and ready to go to work. Includes retractable cover for easy, compact storage.
Please note, this sharpener is not designed for serrated, single-bevel, ceramic, or titanium blades. It should not be used on blades with nicks or chips, or with blade stock wider than 3.5 mm.
- Sharpens double-bevel, straight-edged knives
- 16° sharpening angle
- Easy, 3-step sharpening process
- Includes retractable cover for easy, compact storage
FREE Shipping: We offer free shipping on all orders over $40. For orders below $40 we charge a $9.95 flat shipping fee. 
Our current shipping status:
In-stock orders will ship the same business day if placed before 2pm EST/EDT. Orders placed after 2pm will ship the next business day.
Multiple bags in the same order ship in separate boxes that may get split up during transit and deliver on different days.
Great product
Does what it expected to do. Thank you for quick shipping.
Sharp edge
I bought this sharpening tool and found it to be amazing. As a comp cook I utilize my knives constantly and always need them to be the sharpest they can be. This is an awesome sharpener to have. It's a must have
Free Shipping
Receive free shipping on all orders over $40
Satisfaction Guarantee
We guarantee 100% of all FOGO purchases
Superior Service
Questions? We're here,
ready to help.
Premium Product
Our charcoal is made from the best for the best grilling.