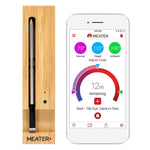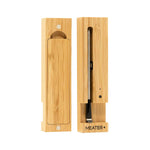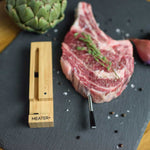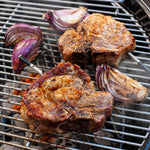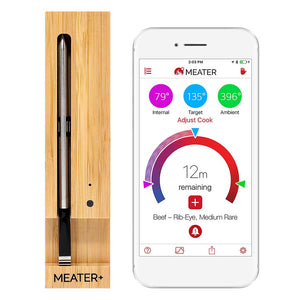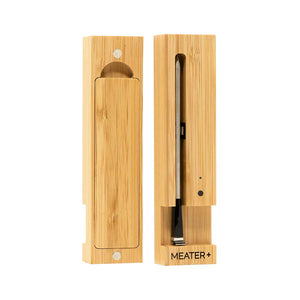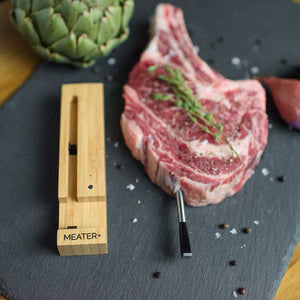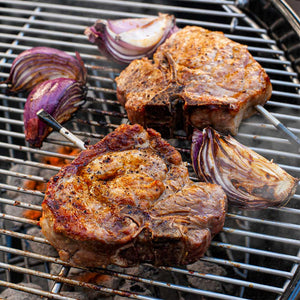 Meater + Wireless Thermometer
100% Wire-Free: No wires. No fuss. The first truly wireless smart meat thermometer.
Frequently Bought Together
Free shipping on orders over $40
Up to 50m Wireless Range
Meater + features:
- Built-in Bluetooth repeater in the charger extends the wireless range up to 50m.
- 100% Wire-Free: No wires. No fuss. The first truly wireless smart meat thermometer.
- 2 Sensors, 1 Probe: Dual temperature sensors can monitor internal meat temperature and ambient.
- Guided Cook System: Walks you through every step of the cooking process to guarantee perfect and consistent results.
- Advanced Estimator Algorithm: Estimates how long to cook and rest your food to help plan your meal and manage your time.
- Connectivity Suite: Monitor your cook from a phone or tablet over Bluetooth.
Probe Specs
- Bluetooth LE 4.0 wireless connection
- Maximum internal temperature: 100°C/212 °F (meat)
- Maximum ambient temperature: 275°C/527 °F (cooker)
- Stainless steel and ceramic construction
- Water resistant and easy to clean
- Dishwasher safe
- Rechargeable: Over 24 hours of continuous cooking
- Dimensions: 130mm length and 6mm diameter
Charger Specs
- Built-in Bluetooth repeater extends range up to 50m
- Store and charge your MEATER probe
- Magnetic backing: Attach anywhere
- Charges MEATER up to 100 times with one AAA battery
- Real wood to match any kitchen or outdoor decor
- LED indicator to show battery state
- Dimensions: 157mm L x 37mm W x 28mm H
App Requirement
- iPhone and iPad apps for iOS 10.3 and later
- Android app for versions 5.0 and later
FREE Shipping: We offer free shipping on all orders over $40. For orders below $40 we charge a $9.95 flat shipping fee. 
Our current shipping status:
In-stock orders will ship the same business day if placed before 2pm EST/EDT. Orders placed after 2pm will ship the next business day.
Multiple bags in the same order ship in separate boxes that may get split up during transit and deliver on different days.
The Meater That I Luv
My Meter broke so the folks at Fogo sent me a new one. I don't know how I cooked without it. If you're cooking steak and it has any thickness at all, The Meater just changes the game. You can tell exactly what's happening the whole time. My friends were here watching me grill and using The Meater, they went home and bought one, because it was obvious that it's an incredible product at a pretty reasonable price.
A must have BBQ tool
I love this little device. A genuine awesome piece technology that takes the guesswork out of BBQ to get the perfect temperature inside and out. It's great not having to be tethered with a wire to read the proper temperature. Highly recommended and works flawlessly.
Review
Used the Meater+ do a reverse sear pork chop for Valentine's day. First attempt at a reverse sear. Came out great. My wife said it was better than any restaurant meal. The meater+ was simple to set up and use.
Love this tool!
Wish I had of bought this sooner. Works great!!
Meater thermometer is great
The Meater thermometer is the greatest thing for grilling. A must have highly recommend. The barrel proof smoking wedges are great also.
Free Shipping
Receive free shipping on all orders over $40
Satisfaction Guarantee
We guarantee 100% of all FOGO purchases
Superior Service
Questions? We're here,
ready to help.
Premium Product
Our charcoal is made from the best for the best grilling.