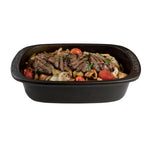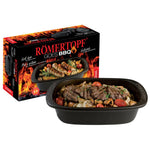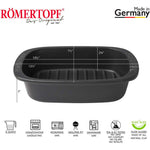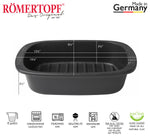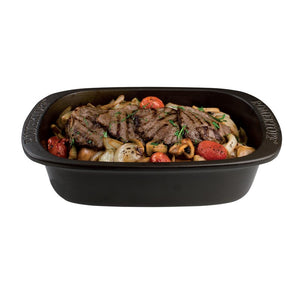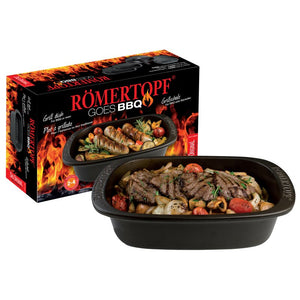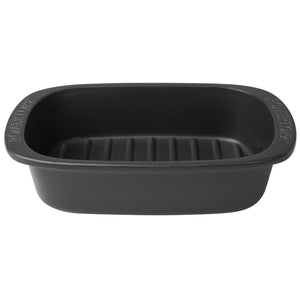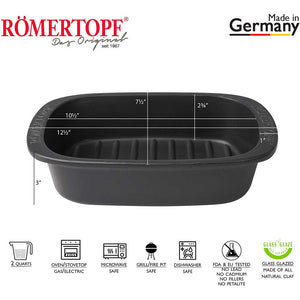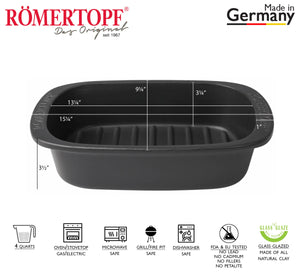 Romertopf BBQ Series - Casserole Dish
Why go to all the work of cooking a wonderful meal only for it to get cold the minute it's off the grill. By serving your food in the BBQ line from Römertopf you will be able to enjoy your meal and keep your food warm.
Frequently Bought Together
Free shipping on orders over $40
This terra cotta grilling dish is made from the same all-natural clay as the other roasters in the Römertopf line. The natural glass frit lining which allows for easy cleaning was dyed a charcoal color and then heat to extreme temperature line fine dinnerware. This process makes the clay roaster to be safely used on an open flame, grill, or fire pit. This roaster is used for side dishes, desserts, roasted vegetables, all-in-one meals, and more!
Specifications:
Medium
- 12¼"L x 7¼"W x 3"H
- Holds 2 Quarts
- Dishwasher safe (after dish is cooled)
- Made in GERMANY
Large
- Holds 4 Quarts
- Dishwasher safe (after dish is cooled)
- Made in GERMANY
FREE Shipping: We offer free shipping on all orders over $40. For orders below $40 we charge a $9.95 flat shipping fee. 
Our current shipping status:
In-stock orders will ship the same business day if placed before 2pm EST/EDT. Orders placed after 2pm will ship the next business day.
Multiple bags in the same order ship in separate boxes that may get split up during transit and deliver on different days.
Works beautifully!
Arrived promptly. Pork butt cooked to perfection!
FOGO CHARCOAL AND ACCESSORIES ARE EXCELLENT
I'm new to the FOGO offerings and very pleased with all of my purchases. All
items are high quality and have enhanced my BE experience. I especially enjoy
Captain Ron videos and have become a better cook. The casserole dish is well made and has many uses. Thanks for the great product.
Taking it to the next level.
I have used a number of different containers to cook with in my BGE's for sides, casseroles, etc. I have found these to provide the most consistent, even results of anything I have ever used. I also like the heat retention qualities of the material to maintain a nice temperature for serving. It is also become my go to for making pulled pork. I once again get more even results, and retaining all of the liquid makes a big difference in the final product. I like them so much I bought three.
The Best Pulled Pork Ever!
Using the dish was easy, I followed Captain Ron's juiciest pork butt ever recipe on the Fogo channel, it was awesome!
Free Shipping
Receive free shipping on all orders over $40
Satisfaction Guarantee
We guarantee 100% of all FOGO purchases
Superior Service
Questions? We're here,
ready to help.
Premium Product
Our charcoal is made from the best for the best grilling.