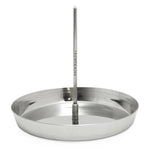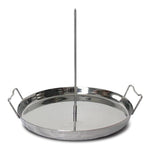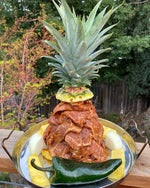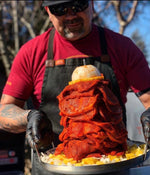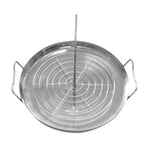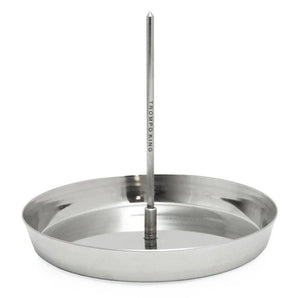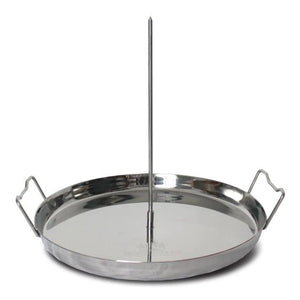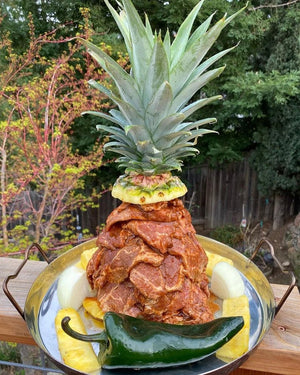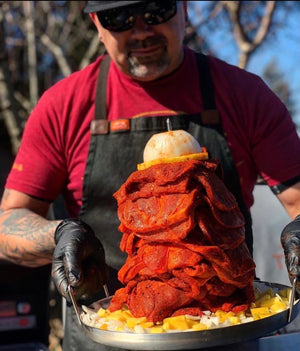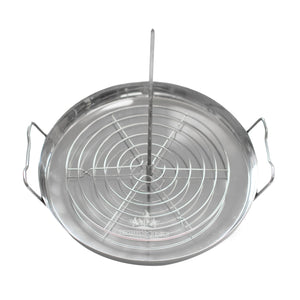 Trompo King
This versatile cooking accessory allows you to vertically stack your meats creating Tacos Al Pastor, Gyro, Shawarma and many other stacking opportunities.
Frequently Bought Together
Free shipping on orders over $40
A few passionate backyard chefs got together to design a unique cooking utensil so they can cook their favorite meal: Tacos Al Pastor. This meal has a rich history both in the Middle East and Mexico, and when you combine those flavors with the cooking technique of vertical meat stacking, you then have an award winning dish. 
In addition to Tacos Al Pastor, the Trompo King has many more uses for any meat. Make Gyros, Shawarma, Chicken or even a rib roast.
Why spin your meat when you can stack it and keep all those amazing flavors together!  
Trompo King Mini 8" - Benefits & Advantages:
- Unit comes with both a 8'' Spike
- Completely compatible with all Trompo King®️ items 
- Will fit any grill or smoker
- Made from 100% commercial grade 304 Stainless Steel
- Diameter - 8.11"
- Height - 8.04" Spike 
- Weight - 1.47LB

 Trompo King Standard 13" - Benefits & Advantages:
- Unit comes with both a 12" and 7" interchangeable spikes 
- Will fit most grilling and smoking units
- Made from 100% commercial grade Stainless Steel
- Diameter - 13.69"
- Height - 7.6" Spike and 12.6" Spike
*Trompo King Grate does not come with the Standard 13"
Trompo King Standard 13" with Grate
- Brings the Trompo King Standard 13" with the grate
- The grate allows your meat to sit up and out of the fat drippings or grease. It is constructed from all stainless steel and ready to roll.  Simply slip the grate onto your Trompo King Spike.
FREE Shipping: We offer free shipping on all orders over $40. For orders below $40 we charge a $9.95 flat shipping fee. 
Our current shipping status:
In-stock orders will ship the same business day if placed before 2pm EST/EDT. Orders placed after 2pm will ship the next business day.
Multiple bags in the same order ship in separate boxes that may get split up during transit and deliver on different days.
Pork Gyros
This was a fantastic rig to use for Gyros.
Followed the video on the website with the Greek Freak spice and it could not have turned out any better!
Must have for Gyros, Al Pastor or Shawarma for sure.
I would recommend sliding a pizza screen down the spike before building, to keep the meat from falling into the tray while slicing.
Works Well!
MY advice: if you have a big enough place to put it, bite the bullet and get the bigger one. You can always cook less on the big one, but if you want to feed 8 or so people, or even5 or 6 big eaters, you may wonder if the smaller one will suit.
Good, but...
The standard size with short spike fits my egg, but the long spike is a bit too long. Probably would work well in an XL.
There was some confusion about the grate, looks like there is another product listed that covers it.
So far, gyros and tacos al pastor have turned out beautifully. I recommend a remote thermometer to keep tabs on the cook, it seems to take a bit longer than I would anticipate.
Free Shipping
Receive free shipping on all orders over $40
Satisfaction Guarantee
We guarantee 100% of all FOGO purchases
Superior Service
Questions? We're here,
ready to help.
Premium Product
Our charcoal is made from the best for the best grilling.