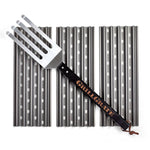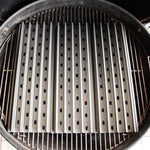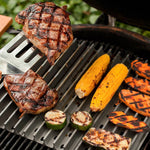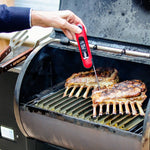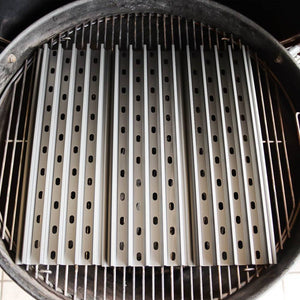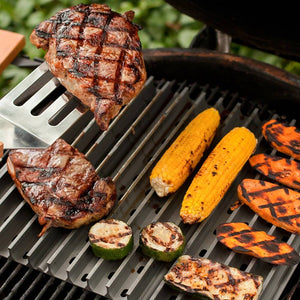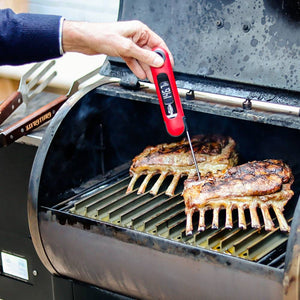 Universal GrillGrate with Grate Tool
Free shipping on orders over $40
This GrillGrate set works on all grills: gas, charcoal and pellet.  GrillGrates improve the grilling experience and deliver juicier, more tender food.  GrillGrates are reversible interlocking panels, giving you two grilling surfaces; rails up or on the flat side. GrillGrates tame flare-ups and even out the hot and cool spots common with all gas grills. This gives you even, stable temperatures across the cooking surface. On gas grills, they tame flare-ups, create an even cooking surface, and are super fuel efficient. On pellet grills, they increase surface temperatures so you can truly sear food and get nice grill marks. On charcoal and kamado grills, GrillGrates provide PROTECTED high heat grilling so you don't have dried-out food. No matter your grill type, you'll have your juiciest, most flavorful food yet. Plus, you can flip them over for a flat-top surface! Constructed from hard anodized aluminum, GrillGrates will never rust. Every set comes with a GrateTool which is part fork, part spatula that fits between the rails to get under your food and lift it without scraping.
What's Included?
(3) 15" GrillGrate Panels
Assembled Dimensions: 15" x 15.375"
GrateTool and 28-page User & Recipe Guide Included
FREE Shipping: We offer free shipping on all orders over $40. For orders below $40 we charge a $9.95 flat shipping fee. 
Our current shipping status:
In-stock orders will ship the same business day if placed before 2pm EST/EDT. Orders placed after 2pm will ship the next business day.
Multiple bags in the same order ship in separate boxes that may get split up during transit and deliver on different days.
Free Shipping
Receive free shipping on all orders over $40
Satisfaction Guarantee
We guarantee 100% of all FOGO purchases
Superior Service
Questions? We're here,
ready to help.
Premium Product
Our charcoal is made from the best for the best grilling.